Repair your credit and have the freedom you deserve.
We accomplish this goal by deleting or correcting inaccurate and unverifiable information on your credit reports, providing you with access to resources not normally available to "non-creditworthy" consumers, settle outstanding debt and giving you the tools and education needed for a lifetime of good credit.
Individual Credit Repair
At National Credit Federation, our membership model allows you to invest in your future with affordable monthly payments.
Partner Credit Repair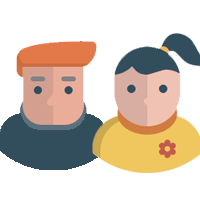 Do you have a significant other who may benefit from improved credit? If so we offer a discount plan for both of you!
Do-It-Yourself Credit Repair
We have packaged together what we call the Ultimate DIY Credit Repair Kit. This Do-It-Yourself credit repair kit has everything you need to be successful.
Although this process can be a very long, and time consuming, I promise you, it is worth it! At the completion of this course you will have a base understanding of credit and what goes in it, how to pull and read a credit report, the dispute process and how to create your own dispute letters.
Our hope with this course is to help you put yourself in a position to accomplish you goal(s) as soon as possible, and to start living the credit freedom lifestyle you deserve.
Keep in mind this product is only for those willing to take on the challenge of reading the 300+ pages in the book and workbook as well as watching all of the instructional videos. And remember these are just the basics. If you have more than a few inaccuracies or if you have some major derogatory issues, you may want to consider enlisting the help of professional with our Done-For-You option.
Done-For-You Credit Repair
As part of our Done-For-You program you will get an extensive credit audit with a Personalized Credit Repair Blueprint. We will set-up your Client Hangout, which is an online portal giving you 24/7 access to monitor the progress on your credit file. Create a strategic plan to assist you in meeting your goals. And Provide ongoing credit education and consulting to help you maintain ongoing healthy credit.
We will: regularly update your online Client Hangout; draft and send letters to the credit bureaus, creditors and certain agencies on your behalf; process the results as they come in; and continually monitor your credit report to track changes. Additionally, all work is billed in arrears, so you only pay after the work has been completed.
Upon sign-up, you will be assigned a dedicated account manager who will work with you through the entire process, answer all of your questions, and help you navigate the road to restored credit and a brighter financial future.